The IMAGE Society, Inc.
May 2017
IMAGE OF THE MONTH

courtesy of

METAVR
An Associate Member
of the
IMAGE Society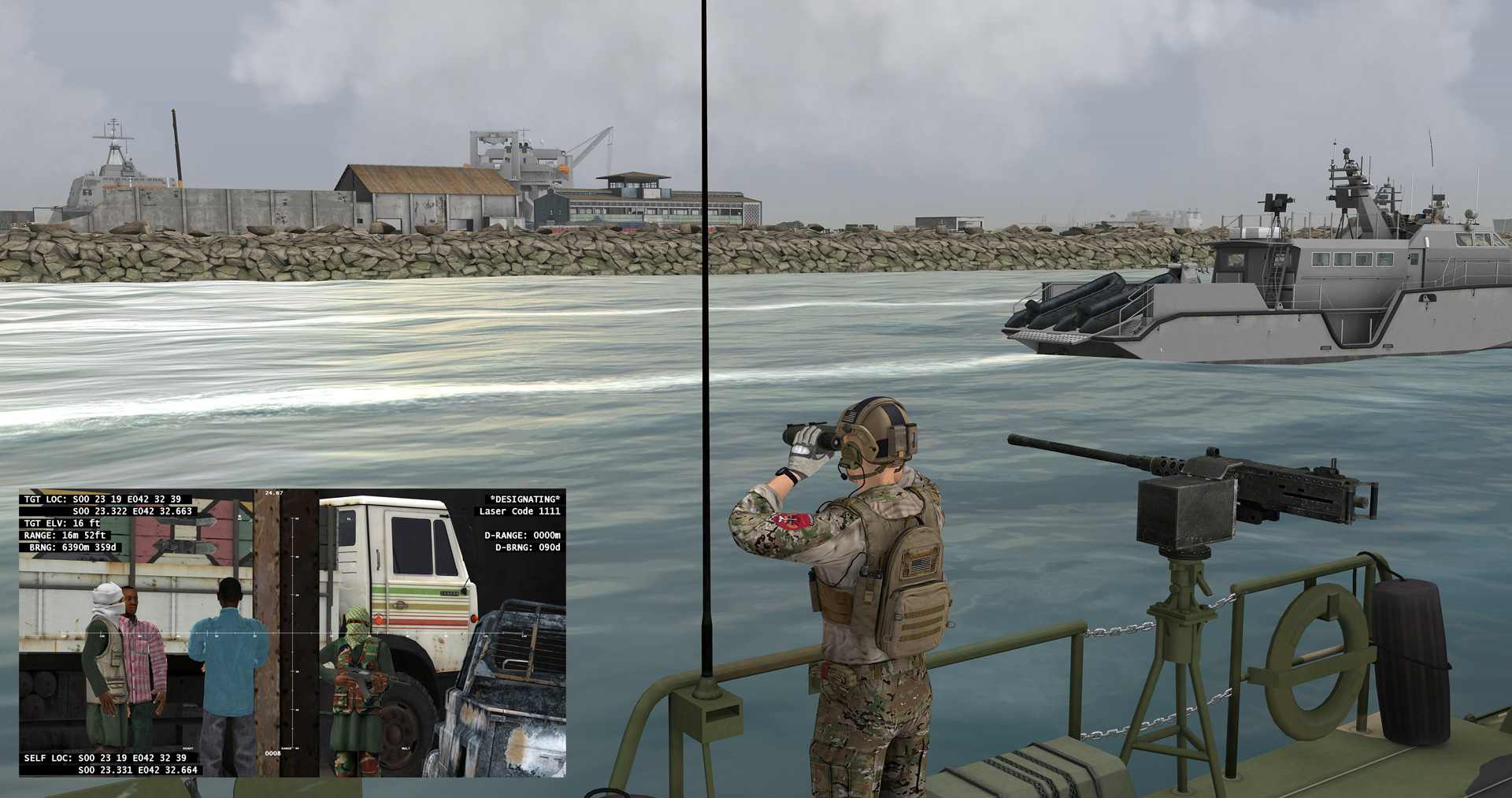 Click here to see the full size screenshot
The full size screenshot from MetaVR Virtual Reality Scene Generator
taken on a 4K monitor at 4096 x 2160 pixel resolution.

MetaVR VRSG's new 3D Ocean Sea States

The image presented here is from MetaVR's Virtual Reality Scene Generator™ (VRSG™) and shows a scene with new 3D ocean sea states, available in the release of VRSG version 6.2. VRSG's new 3D ocean simulation features realistic wave motion, multiple Beaufort sea states, vessel surface motion, 3D wakes, accurate environment reflections, and support for bathymetry data in our round-earth terrain format. The screen capture was taken on a 4K monitor at the full-size resolution of 4096 x 2160 pixels at 60 Hz, and is unaltered except for the inclusion of the smaller inset image.

The scene shows a joint terminal attack controller (JTAC) character laser designating a target of insurgents inside a warehouse on the dock, as shown in the inset image. The JTAC character is standing on a model of a CB-90 vessel; a Mark VI vessel has passed by on the right. In the background directly behind the buildings is a T-AKR 304 unloading cargo and on the right, partially obscured by fog, is a TAK-R 317. These vessels are among the 130 naval models in MetaVR's military model library. The exteriors of all naval models are designed to be viewed at first-person level.

The geospecific virtual terrain in the scene is of the Somalia port city of Kismayo, a topical high-resolution dense urban and maritime environment for close-air-support training. The 3D terrain is populated with hundreds of geolocated, photo-specific culture models built from ground-level photographs taken on the streets of Kismayo. The terrain was built in MetaVR's round-earth Metadesic™ format with MetaVR Terrain Tools for Esri® ArcGIS®. This scenario was created with VRSG Scenario Editor, using cultural feature, character, and land, sea, and air vehicle assets, and 3D character animations from MetaVR's 3D content and animation libraries.

See our real-time VRSG scenarios of sea-based, amphibious, and close-air-support simulated missions at www.metavr.com/vrsgdemos.html.
For more information contact:

W. Garth Smith
President & Co-Founder
MetaVR, Inc.
80 Somerset Road
Brookline, MA 02445
Tel: 617-739-2667
Email: wgsmith@metavr.com
Web Site: http://www.metavr.com
---
Instructions to Submit your JPEG/GIF file for Image of the Month
Copyright © 2017
The IMAGE Society, Inc.
All rights reserved.